Our sales team
As an employee in our sales team, you play a key role. By being in direct contact with our customers, you are showing what you are capable of on a daily basis.
Whether you join STILL as a Junior Sales Advisor, an Area Sales Manager or a Key Account Manager, your working day is varied, dynamic and entirely customer-oriented.
You too can become part of our around 300-strong sales team!
---
Our sales positions at STILL
There are various positions within our sales team. Depending on your qualifications and experience, join us in the right post for you, with customer care and support as the focus of every sales role.
As the contact person in your sales area, you'll take care of the sales of the STILL product range. Here, you'll be responsible for the sales of forklift trucks, software solutions, shelving systems, services, and automated trucks.
Your responsibilities will include independently handling customer meetings, preparing tenders and supporting the customers through to concluding a contract. In addition, you'll be responsible for acquiring new customers within your sales area.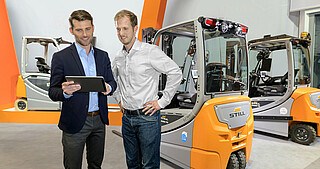 ---
So many good reasons to join STILL in sales
You'll be able to organise your working day as you wish – you'll have full flexibility and independence in your day-to-day work. You can organise yourself and your working day independently. This gives you a lot of freedom to look after your customers in the best way possible.
You'll advise customers from a wide range of industry sectors – every customer visit is different, making your working day extremely varied. Your customers work in a wide range of different sectors, meaning that you'll deal with various customer requests and come up with new solutions every day.
You'll have a varied range of tasks – besides direct contact with your customers, your work will also include administrative tasks. When processing your customers' orders, you'll be supported by the regional and central STILL back office.
You'll be able to use your strengths on a daily basis – with your advisory skills and your strong customer focus, you'll come up with customer-specific solutions. In doing so, you'll use your negotiating skills and your creativity with a consistent focus on success.
You'll regularly be given training and development opportunities – you'll be in daily contact with the different STILL products, and so it is important to us that you are regularly trained on the various different types of truck. Through our internal product and sales training, you can broaden your expertise and get to know our products quickly, like no other!
You'll have the chance to progress within the company – our sales team is made up of a wide range of different positions. This will give you the opportunity to shape your professional development in line with your qualifications and sales experience.
---
You can expect excellent employment conditions
Attractive compensation package: fixed basic salary plus performance-based and success-based commission
Special bonuses depending on the company's success
Company pension scheme
30-day holiday entitlement as standard
Favourable company car policy with private use
Technical equipment for your individual workspace
---
Interview - STILL Key Account Manager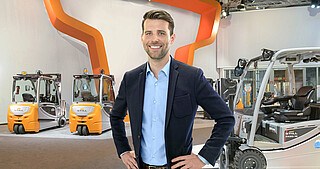 Name: Henning Glass
Position: Bavaria region
Playing field: Munich branch
Key player at STILL since: 2015
Playing position: Key Account Manager

What was your route into STILL?
In hindsight, my route into STILL started much earlier than you might imagine – it was during my apprenticeship with the Wholesale and Foreign Trade team, when I took the controls of a STILL forklift truck for the first time. As I was nearing the end of my business studies course and was searching for an exciting first step into the world of Sales – I came across STILL for the second time – but instead it was in the form of an exciting-sounding position as a Junior Sales Representative. My first impressions of my potential areas of responsibility, and the positive accounts I heard from a fellow student and former intern, left me certain that I had to apply.
Why did you decide to work at STILL?
There were two main reasons that were pivotal for me. Firstly, STILL offers everything that a young graduate is looking for: an international, innovative engineering company that has down-to-earth, human values and skilfully links tradition with all things modern. Secondly, the people. I was won over the first time that I met my future colleagues at STILL. In my interview, I really got the feeling that I was really welcome, and was immediately invited to the roadshow the very next day! Once I was offered the job, I didn't need much time to decide.

How did you get to your current position?
I started out as a Junior Sales Representative. In this role, I had the opportunity to shadow my more experienced colleagues and have my own first experiences with our customers. At the same time, I was able to delve even deeper into the STILL product range as part of the internal 'Bachelor of Intralogistics' sales training programme. About six months later, I was offered a position as an Area Sales Manager with my own sales area, and I happily accepted. Two years and one application later, since the beginning of 2018, I've been tackling a new professional challenge at STILL. As a Key Account Manager, I look after major strategic clients and tenders.
Describe a typical working day and your working environment:
The great thing about my job is that no two days are ever the same. My main job is to develop our collaboration with our major Bavarian clients. In this role, I act as a centralised contact for our customers in all sorts of different ways. This includes coordinating tenders, optimising existing fleets, and advising our customers on energy-related issues. I also support the Area Sales Managers in quotes for fleet projects or during consultation between the respective departments in the branch, e.g. with the service department, or with our Hamburg head office.
The rest of my time at work is spent on site with customers. Since our customers' industries are as varied as our products, every new customer visit is a real highlight.
What makes your work at STILL so exciting?
Definitely the contact with our customers, especially fully understanding their requirements for our products and always having the opportunity to find the right solution for each challenge in close dialogue with them.
Why are you a key player (at STILL)?
Because, in sales, we always have our finger on the pulse when it comes to our customers, and we never lose sight of our 'fans'.
What have been the highlights of working at STILL so far?
I'm able to look back over countless highlights in my time at STILL so far, whether that's the first truck I ever sold, my visit to the STILL roadshow or taking part in the CeMAT and LogiMAT trade fairs. Every time, I was reminded how exciting it is to work for this company.
But a real personal highlight for me was taking part in the STILL Young Professional Program. Along with 14 other colleagues, I peeked behind the curtain into different departments, such as Development and Production, and I experienced just how much blood, sweat and tears, as well as innovation, goes into our trucks. I also built up a network with my colleagues, and I benefit from that in my day-to-day job so much; it's sometimes more like friendship than collaboration between colleagues.
Complete the sentence: Working at STILL is…
electrifying.
Describe STILL (as an employer) in 3 words:
Down-to-earth, familiar, innovative.
What do you like most about STILL?
I like that STILL's long tradition has repeatedly shown how innovations are created that excite our customers, but yet it has never lost its Hanseatic down-to-earth nature.

What makes STILL stand out as an employer?
The fact that employees are given the chance to continuously develop through training events and professional development, meaning they can always take advantage of new opportunities within the company.
Where else do you apply your skills as a key player?
When I'm not on the playing field at STILL, I try to score some goals on the football pitch or while playing football on the beach.