Applications
Food
Logistics driven by freshness
Food production is characterised by high competitive pressure, strict legal regulations, increasing prices for raw materials and energy as well as consumers with ever changing wishes. Food producers have to become more and more flexible and at the same time work highly economically.
The industry has special requirements for storage and transport because the goods are fragile and perishable. Caution and hygiene have top priority. Companies in the food industry have challenging tasks. What is needed is continuous adaptation and development of internal and external logistics services as well as a comprehensive understanding of the products.
Requirements in the food industry
Availability: No compromises in the freshness of products
All from a single source: One supplier for the whole process
Environment: Clean and eco-friendly production at best performance
Food grade quality: Hygienic, dust-free, corrosion-free
---
STILL White Paper on intralogistics in mechanical engineering
Our white paper provides information on all relevant topics relating to intralogistics modules, special requirements and future trends in the industry.
Register now for the STILL Newsletter and receive the white paper "Intralogistics in mechanical engineering"!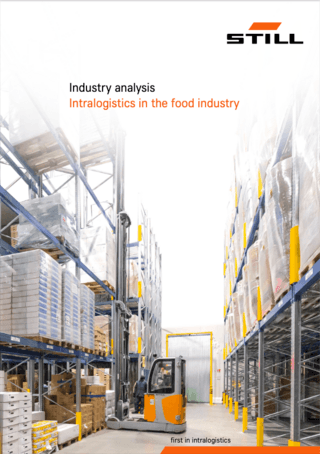 ---
Applications
Intralogistics practically applied. Convince yourself of our customised industry solutions.
Contact us
Find out more? Contact us for further information.
Request to: Solutions in the food industry
Please fill out the form below. We will get back to you as soon as possible.