That's what we do
Logistics planner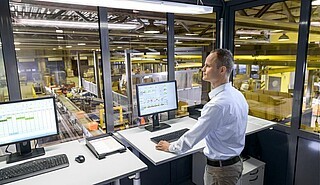 Interview - STILL Logistics planner
Name: Karsten Matz
Playing field: Hamburg Head Office
Key player at STILL since:
01. August 2012
Playing position: Logistics planner

What was your route into STILL?
After my degree in industrial engineering at the FH Lübeck, I initially spent four years at a consultancy firm for supply chain processes in Frankfurt am Main. In a range of projects I had contact with STILL time and again and I got to know the company that way. At the same time, I had a growing desire to be responsible for the success of projects and products in the long term. I also wanted to transfer the geographical focus of my life back home to North Germany, so applying to STILL was a logical step for me.
Why did you decide to work at STILL?
For me, STILL offers the total package:
1. A fantastic product you can be proud of.
2. An exciting field of tasks with the prospect of many challenges and large projects.
3. An attractive company location in the most beautiful city in the world.
How did you get to your current position?
My current role was advertised on the online job portal. When I saw it, I applied online straight away. My written application was followed by an interview with my potential boss and an HR employee. Having impressed them in my first interview, I was invited to a second interview with the division manager, the potential boss and the HR employee. Both interviews were very informative and went so well that I was finally offered the job and could sign the contract.
Describe a typical working day and your working environment:
The team of logistics planners is responsible for planning and implementing logistical processes in our main plant. In my daily work I engage in a constant exchange with our logistics experts, the Production, Quality and Development teams and our external suppliers to overcome problems in day-to-day operations. At the same time I spend a great deal of my time improving our logistics processes in projects and making them fit for future requirements.
What makes your work at STILL so exciting?
As a logistics planner, I deal with almost all the other departments at the plant so I am always well informed. I am up-to-date with all the innovations and changes at the plant and can draw on that knowledge in my activities. In addition, I can find and implement solutions to problems on my own authority and over long distances.
Why are you a key player (at STILL)?
As a logistics planner I influence how individual materials are processed on our forklift truck production lines. This involves preparing thousands of materials at the right place, at the right time and in the correct quality and quantity. Only if those aspects are planned for and implemented appropriately during the logistics processes can STILL produce a high-quality product in a short lead time at reasonable costs. And it is in precisely this process in which I am a key player!
What have been the highlights of working at STILL so far?
My highlight was taking on the project leadership of the 'Central Supermarket' works structure. That involved actively and substantially shaping the direction of logistics in the company for the next decade as part of one of the largest logistics projects in the history of STILL.

Another highlight for me was participating in the 'International Junior Circle', an internal development programme which lasted several months. As part of that international training programme, I took a variety of modules to consolidate my specialist knowledge in a number of areas, grew my personal network and gained an insight into the whole STILL group together with colleagues from across Europe.
Complete the sentence: Working at STILL is…
full of variety.
Describe STILL (as an employer) in 3 words:
Tradition and innovation.
What do you like most about STILL?
STILL is a strong brand with a long history that has reached a number of milestones in the industry. At the same time, the interaction among employees is very down-to-earth and straightforward. I like that.
Was makes STILL stand out as an employer?
Aside from a great work atmosphere, STILL offers a good work-life balance with flexible working times and various employee benefits. In addition, there is a comprehensive HR development programme which can be used by every employee. That involves the internal development programme, which lasts several months to build on technical, methodical and social skills. In addition, STILL offers, for example, PC or language training and specialised training from the production, logistics or sales divisions.
Where else do you apply your skills as a key player?
You can be a key player in any situation. Sometimes I help my beach volleyball team to take the set; sometimes there are everyday challenges in my family life.