Game decider at STILL
Service technician
Our service technicians
When you take up a highly specialised role as a service technician in a well positioned company, you are able to take on new challenges on your own initiative, safe in the knowledge that your commitment will pay off. Participate at the very highest level.
---
Current job openings as service technician at STILL
As a service technician (mechatronics technician) you are responsible for the repair, maintenance and safety inspection of electric and combustion engine powered forklifts and industrial trucks at our customers' premises. You will also conduct error analysis on mechanical, hydraulic, electrical and electronic systems, which are necessary to isolate possible root causes and to rectify existing defects. Our current job offers for your entry as a mechatronics technician in the service area can be found here. Discover your professional opportunities with the premium brand STILL. Become part of a top team!
---
The working environment of a service technician
---
Our service technicians on their dream job at STILL
Find your place in our team.

Why are we amongst the world's leading suppliers of customised intralogistic solutions for forklift trucks, storage technology, software and services?

Because we have a first class team! Every position in our company employs and attracts great people. We help one another and our teamworking creates perfect solutions!
"What do you particularly enjoy about your job at STILL?"
"What tip would you give yourself at the beginning of your career?"
"Who supports you in your job?"
"What is the most important skill for a service technician?"
---
Why join STILL as a service technician?
Customer service vehicle at home
Your working day starts with your customer service vehicle parked right outside your home. This means your working day starts the moment you step out of your front door, so there's no need to switch vehicles or collect cumbersome material. Instead, you can get straight on your way to your first customer.
You structure your own working day
As the contact person for our customers in your region, you can plan your daily customer visits in consultation with the service coordinator. As such, you can directly influence your working hours and the agenda for your day. The lion's share of the responsibility for this planning falls to you.
You are in direct contact with our customers on a daily basis
and are therefore indispensable to our customers, representing the company as a permanent contact person. You look after our customers whenever our equipment requires on-site repairs, servicing or safety testing. This means that you are in daily contact with the customers, ensuring that our STILL equipment remains in use at the customer's premises in the long term.
You have a varied, diverse set of responsibilities
At the customer's premises, you act as a professional expert for the entire product range. Whether it's diesel or electric forklift trucks, tractors or warehouse trucks, the service is in your hands. This means that you can expect a wide variety of tasks and activities each day, as well as assignments in a wide variety of companies. Sometimes you will be advising a local dairy farmer, sometimes it will be the fleet manager of a large logistics company who needs your support.
You will receive regular training and education
Personal and professional development are very important to us. By taking part in regular training courses at our STILL training centre, you will learn about the different types of forklift truck used and continuously expand your own expertise.
Use your strengths on a daily basis
Alongside technical expertise, your problem-solving skills will prove absolutely vital. Every customer visit is different and requires you to draw on your creativity, consulting skills and customer focus. Of course, your colleagues at First and Second Level Support are also on hand to help you with this.
You have the opportunity to develop within the company
You can help to shape your own professional development at STILL. Our organisational structure offers you the opportunity to take your next career step, assuming both professional and disciplinary responsibilities as a Regional Service Manager.
---
Attractive employment conditions
As a service technician at STILL an exciting field of activity awaits you, in which you will develop further every day.

This also includes attractive benefits and conditions:
Remuneration subject to collective agreement
Company pension scheme
Retirement benefits
30-day holiday entitlement as standard
Attractive working model
---
Interview - STILL Service technician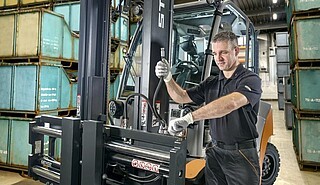 Name: Nicolas Jöckel
Playing field: Hamburg branch
Key player at STILL since: 1 August 1991
Playing position: Service technician
What was your route into STILL?
I have been familiar with STILL since grade school. I did a two-week pupil internship at the Hamburg Head Office. I enjoyed it so much that when I finished school, I applied for an apprenticeship as a mechatronics engineer at STILL, and I was accepted. Following the three-year apprenticeship, I was hired as a result of my good performance and have been employed as a service technician ever since.

Why did you decide to work at STILL?
After school, I initially looked for an apprenticeship which I would enjoy and where I could make optimum use of my skills. In addition, I wanted to learn a profession with a secure future. STILL offered me just that. My current job is, and will remain, indispensable. And finally the service we offer our customers is an important aspect.

How did you get to your current position?
At that time, the Service department was looking for qualified staff. Based on my performance during the training, I was offered a job upon completion of my training.

Describe a typical working day and your working environment:
My working day starts at about 6:30. Before I get into my customer service truck, I take a load inventory to check which parts the overnight courier has delivered and secure them against slipping. I then drive to the first customer and carry out the necessary repairs, servicing or FEM test on the relevant forklift. Depending on how urgent it is, I then drive to the next customer. There, I carry out a damage diagnosis, for example, and produce an appropriate repair quote. If the customer accepts the quote, I order the spare parts. On average I repair or service three forklift trucks per day. Sometimes I change location three times a day. But sometimes I might go to only one customer for several weeks with only brief interruptions.

What makes your work at STILL so exciting?
My position at STILL enables me to work independently. For the mostm part I plan my assignments myself. That means my working environment is very varied. My fixed custoeregu base is a constant.

Why are you a key player (at STILL)?
I bring 25 years of professional experience to the Service department. Owing to my rlar participation in training events, I am able to repair almost every forklift. So I am able to assist our customers with experience and know-how and ensure that they can get the very best out of their STILL forklift trucks.

What have been the highlights of working at STILL so far?
The set-up and configuration of warehouse handling equipment is always exciting. The assembly of those products is not an everyday task and requires teamwork. They are delivered to the customer in individual components. As long as the conditions on-site allow for it, they can even be assembled using a telescopic crane.
Something else that has always been special is working on trade fairs. For example, I was allowed to present our products and the STILL service to the visitors and customers at the CeMAT in Hanover. The opportunity to work for STILL at a large leading trade fair is an extraordinary experience. What is more, you get to meet colleagues from other branches and make new contacts.

Complete the sentence: Working at STILL is…
full of variety.

Describe STILL (as an employer) in 3 words:
STILL is an international player. But it is also engaged socially, e.g. with the emergency service 'Nothilfe Hans Still e. V.', a company-owned aid organisation for 'STILLers' in need. It is obviously also nice to be paid accordingly for your services as an employee.

What do you like most about STILL?
That it is a traditional company.

Where else do you apply your skills as a key player?
In my family – if I can get a word in...