That's what we do
Trials Mechanic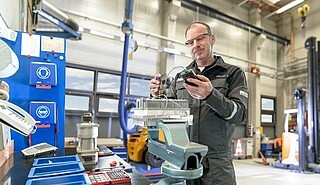 Interview - STILL Trials mechanic
Name: Dirk Melzer
Position: Trials mechanic
Playing field: Hamburg Head Office
Key player at STILL since: 1978
Playing position: Trials in the development workshop

What was your route into STILL?
In 1978 I started an apprenticeship as a machinist at STILL. After my apprenticeship I was hired into the 'Public Clients' department. My main responsibilities included repairing forklifts.

How did you get to your current position?
After seven years as a machinist, I had the opportunity to get to know the trials division, initially as a representative. I enjoyed it so much that I applied internally for an open position as a trials mechanic in the department – and I was accepted.
Why did you decide to work in trials?
I was drawn in by the responsibilities of a trials mechanic. I can be creative in my day to day activities and apply my own ideas.
Describe a typical working day and your working environment:
There isn't really a typical working day. I always have new problems to work on. Depending on the complexity of the trial, I sometimes work one assignment for a number of days, but I can equally have multiple trials on the go at once. In everything that I do, I work closely with a trials engineer. He tells me what needs to be tested and under what conditions the trial should be conducted. I am then responsible for designing, setting up, maintaining and supervising the trial.
I also conduct tests on forklifts to determine their energy consumption, stability and temperature measurements. My responsibilities also include evaluating software, in particular the driving programmes.
That does not just involve new products, but also production vehicles, which I examine even more closely.
What makes your work at STILL so exciting?
Most of all, I enjoy often being able to practically apply my very own ideas. I also never stop learning and am always dealing with new technology. I am constantly working directly on the product and I know everything there is to know about it. Especially when I dismantle the forklift components for a trial to install the measurement technology and then put it back together again.
Why are you a key player (at STILL)?
Because I make sure that our customers enjoy our products!
What have been the highlights of working at STILL so far?
The announcements of different kinds of product news, e.g. the RXX project, which I was heavily involved in. I exchanged ideas and sought and adopted solutions together with my other colleagues on the project team, until we finally reached a point where we could present the developments.
Complete the sentence: Working at STILL is…
very pleasant thanks to the interactions we have with each other!
What do you like most about STILL?
The way we interact with each other! Even when you have questions or difficulties, you can always go to your colleagues, discuss it with them and find a solution together. And every employee can make a difference if they want to!
Was makes STILL stand out as an employer?
STILL is a fair employer and the company represents innovation.
Where else do you apply your skills as a key player?
I support STILL at a variety of shows and events. For example, I am responsible for the STILL crew involved in the CeMAT. Together we make sure that our products are presented in the best light to the customers at the show.