Applications
Mechanical Engineering
Create big in every detail
Mechanical engineering is one of the leading industries in developing and applying high-tech products, mostly producing small series or unique pieces. Most of the portfolios comprise hardware but also a growing share of services. International competition, scarce resources, energy costs, but also sustainability and climate change are current challenges of this industry and its logistics. The industry needs well-thought solutions that handle loads efficiently and safely and that operate reliably, also in adverse conditions.
Requirements in mechanical engineering
Precision: Safe handling of expensive components
Compactness: Operation in production facilities and in tight spaces
Availability: Avoiding production standstill
---
STILL White Paper on intralogistics in mechanical engineering
Our white paper provides information on all relevant topics relating to intralogistics modules, special requirements and future trends in the industry.
Register now for the STILL Newsletter and receive the white paper "Intralogistics in mechanical engineering"!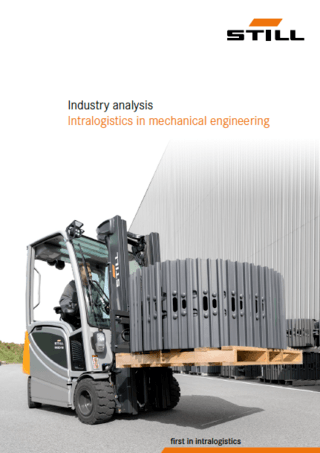 ---
Applications
Intralogistics practically applied. Convince yourself of our customised industry solutions.
Contact us
Find out more? Contact us for further information.
Request to: Solutions in mechanical engineering
Please fill out the form below. We will get back to you as soon as possible.