That's what we do
Development engineer
As a development engineer, you will be involved in the development, construction, calculation and documentation of customer-specific assemblies and systems.

You will work in a Product Development team and are involved across departments ranging from order clarification to vehicle assembly.

Your main objective is responsible, timely fulfilment of general functions while also taking into consideration quality, costs, manufacturability and comfort in practical application.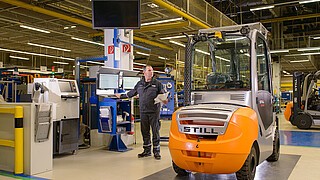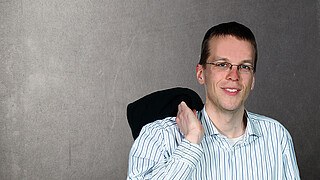 Interview - STILL development engineer
Name: Marcel Kahrs
Position: Development engineer
Playing field: Hamburg Head Office
Key player at STILL since: 2004
Playing position: Development engineer

My Field of Activities
I have been working in the 'Customer Options' department since 2009. We develop special customer requests in small teams which are not available 'off the shelf'. As part of the team, I specialise in mechatronic components. As with series development, we have to deliver the projects on time and on budget. If necessary, we must also produce operating instructions, and carry out tests and risk analyses.

But in May 2004 I started in the Predevelopment department at STILL.

Over the course of four years, I became familiar with a wide range of topics:
Mechanical design
Hydraulic and electrohydraulic components
Electrical engineering
Radio technology and data processing (RFID)
Cooperation in international working groups to define industry standards
As part of that I had many interactions with other departments, suppliers and STILL system partners and learnt about a number of development tools, such as CAD systems, simulation software and real-time development systems for software development.

In May 2008, I transferred to the department for the New Development of Electric Forklift Trucks, with which I had already worked closely when I was in Predevelopment and which brings up interesting new tasks which tied into my previous work very well. My last transfer to the Customer Options department shows that STILL always offers great opportunities for further development.

My route into STILL
After my training as an industrial mechanic in machine and system technology, I studied mechanical engineering and production technology at HAW Hamburg.

STILL always attracted my attention owing to its strong engagement at job and contact fairs at my university.

What I found particularly impressive was the RXX concept forklift presentation which showed a number of innovations which I had not initially expected to see in forklift trucks and which showed me the diversity of the technologies and field of activities involved with forklift truck development.

The decision to do a diploma thesis at STILL was not a difficult one. While I was still completing my thesis, I was ultimately offered a permanent position in predevelopment, which I gladly accepted.

What I particularly like
The responsibilities in the Development department are diverse and vastly varied. This is not least due to the fact that it involves highly developed products – and that is obvious even in the day-to-day work.

The most important factor for me, though, is the very cooperative and collegial atmosphere which offers a great deal of enjoyment at work. Over the years, I have also made a number of valuable contacts in other divisions (Sales, Controlling, Production, Procurement, Order Centres, Service, etc.).