Retail and wholesale
Intralogistics as a necessary competitive advantage
How do companies in the retail and wholesale sector stay competitive?
The retail and wholesale industry is facing numerous challenges that are impacting its business models and processes. These range from increasing digitalisation and the need to create a seamless omnichannel experience for customers to improving logistics and inventory management. To succeed, companies in the industry need to be flexible, innovative and focused on the needs and expectations of their customers.
Challenges in the retail sector:
Increased competition from online retailers and new technologies such as mobile shopping and self-checkout
Changes in customer behaviour, such as an increasing demand for personalised shopping experiences and faster delivery times
Skills shortages and high staff turnover
Rising rents and operating costs
Increasing demands on customer communication and customer service
Challenges in wholesale:
Price pressure from global competition and more complex supply chains associated with globalisation and the growth of e-commerce
Increased logistics and warehousing requirements
Changes in customer behaviour and rising expectations of service quality
Digitalisation and automation of processes
Regulatory requirements such as data protection and security regulations
The need to keep up with changing technological trends to remain competitive
---
The new intralogistics white paper from STILL
What influence do megatrends such as urbanisation, networking and ecology have on retail and wholesale? And which processes in the warehouse are affected by this? The STILL white paper examines the challenges and trends in the food, textile, electrical and furniture industries. It looks at automation, storage space, ergonomics, safety and sustainability as well as warehouse processes.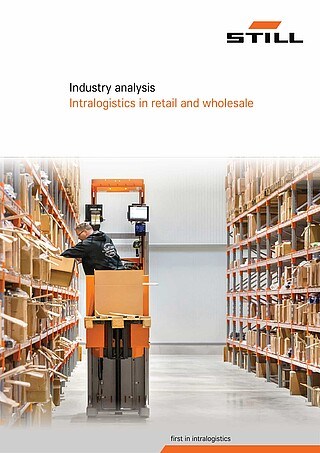 ---
Applications
Intralogistics practically applied. Convince yourself of our customised industry solutions.
Contact us
Find out more? Contact us for further information.
Request to: Industry solutions retail and wholesale
Please fill out the form below. We will get back to you as soon as possible.