That's what we do
Head of the Mechatronics Order Processing Centre
Part of the Hamburg STILL site is the Mechatronics Centre. Operations there include the development, production and customer supply of traction converters and printed circuit boards for the STILL equipment. The order processing centre does the internal order processing from receipt of the order to dispatch of the finished goods.

As the Head of the Mechatronics Order Processing Centre, you are responsible for the whole value chain in this department and for ensuring a smooth workflow alongside its employees.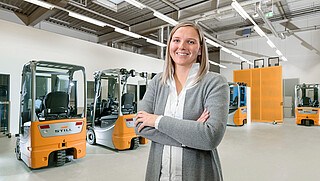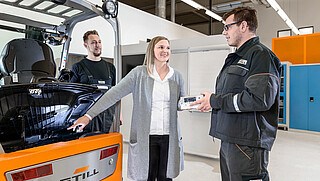 Interview - STILL Head of the Mechatronics Order Processing Centre
Name: Fabienne Hoppe
Position: Head of the Mechatronics Order Processing Centre
Playing field: Hamburg Head Office
Key player at STILL since:
August 2007
Playing position STILL Mechatronics Centre

What was your route into STILL?
After two semesters of business studies at the University of Hamburg, I needed some perspective and decided to do an apprenticeship as an industrial business manager to find out what really interested me. With its various apprenticeship schemes, STILL was on my short list. After an initial personal interview, I was able prove myself at the assessment centre and got an offer on the same day.
Why did you decide to work at STILL?
STILL is a global company, and that has always been very important to me. I wanted to learn about as many industries as possible in my apprenticeship. STILL combines everything in one place at the Hamburg site.
How did you get to your current position?
I haven't stopped developing since my apprenticeship. Thanks to the size of the company, I was able to learn about new fields in a short space of time. I worked in procurement, among other things. There I worked across different locations and was also able to gain work experience around the world by being in contact with our business clients. From procurement, I then moved internally to the Mechatronics Centre and brought my knowledge of order processing there. Aside from my professional development, I have broadened my expertise by taking evening classes towards a Bachelor of Arts focussing on Economics and Management. My bosses have always supported me, so I completed my BA within four years. Shortly after, I received the offer to lead the Mechatronics Order Processing Centre. I was delighted to have the opportunity to take on more responsibility in a familiar environment. An obvious advantage was that I could focus straight away on my new management role, because I already knew the department and the processes well.
Describe a typical working day and your working environment:
If you consider the classic value chain consisting of procurement, production and sales, you get a good idea of everything the order centre does. From acceptance of the order, procurement of the raw materials, control of the production through to dispatch of the finished components, my department sees to it all. In short, my employees control the internal order processing from receipt of the order through to dispatch of the finished product. I therefore have daily contact with customers, suppliers, production managers and development engineers. At it's core, it's about meeting the customer's requests as best we can. In addition to the day-to-day operations, we always have time improve what we do. That involves precise analysis of processes and strategic planning for the future direction of mechatronics.
What makes your work at STILL so exciting?
What is particularly exciting is having a voice in strategic matters. Our motivated employees are the heart and soul of STILL; they want to make a difference and give their all so that the Mechatronics department is and continues to be a reliable supplier.
Why are you a key player (at STILL)?
The teamwork of all our employees makes it special! Every one of them is interested in constantly driving the company forward and never tires of venturing to try something new by taking on challenges every day.
What have been the highlights of working at STILL so far?
I have gone through a variety of stations and tasks at STILL where I have worked on fantastic projects. My personal highlight, though, was the offer to lead the Mechatronics Order Processing Centre.
Complete the sentence: Working at STILL is…
varied and full new challenges. Working at STILL never gets boring.
Describe STILL (as an employer) in 3 words:
collegial, global, challenging.
What do you like most about STILL?
Being part of a globally successful company. Just in what I do myself, I can play a big part every day. It has a familiar atmosphere.
Everybody knows each other and I get to meet new colleagues who are always prepared to help.
Was makes STILL stand out as an employer?
For me, continued professional development is an important point. In my new role as manager, 'First Leading', a HR development programme, really helped me. As a young manager, I have intensive support from a number of contact persons and mentors who are always available to help even in difficult situations. The network of managers in the company is great thanks to the programme and there is also the opportunity to share experience and exchange tips with other managers.
Where else do you apply your skills as a key player?
I am a member of the company fitness club. Through the cooperation of a fitness centre, all employees have the opportunity to train there at a discount.