"Consultancy services and software complement each other"
If you want to be efficient in intralogistics, you need a good overview of your own fleet. When it comes to mixed fleets, however, conventional software often has its limitations. At STILL, a team of consultants supports international customers with brand-neutral consulting and fleet management. They are familiar with both the pitfalls and the hidden potential.
Efficiency is decisive. In many industries it is extremely important that goods and products are transported from A to B as quickly as possible - and are also sorted as quickly and sensibly as possible. The larger the fleet required for this, the more essential it is for it to be managed clearly. Spontaneously, many people associate a "fleet" with trucks and buses, perhaps also with ships or trains. "What people are not always aware of is how diverse a fleet can be in intralogistics," says Bernd Wildemann, Head of International Key Account Fleet Solutions. And how much it contributes to efficiency. The larger the site, the more factories are linked across countries, the more important it is to have an overview of the industrial truck fleet, from counterbalance trucks to reach trucks to high lift pallet trucks: Are they reasonably used to capacity? Are the cycles and routes correct? Is energy being consumed unnecessarily?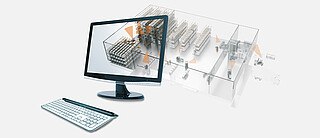 "The larger the fleet, the more often areas of responsibility overlap or become blurred," says Ole Melzer, Consultant International Key Account Fleet Solutions. As part of Wildemann's team, he specialises in fleet optimisation: they both advise and support STILL's key account customers in becoming even more efficient. In recent years they have noticed that "it is very often possible to find potential savings." Especially when the fleet size of a site exceeds 50 trucks.
---
"Customers can focus on their core business"
Yet many companies are facing the challenge that they still manage their fleet with spreadsheets. "As long as you only have two or three company sites, this is a perfectly sensible way to go," says Wildemann. But with extensive fleets, a spreadsheet managed by hand can never capture the exact state of the fleet. After all, there are changes every day: "Equipment is relocated or regrouped," Melzer describes, "rented vehicles are usually recorded separately. If you want to keep track of that, you basically need a department that is specifically dedicated to this." If the database is missing, it is even more difficult to get a meaningful overview and to derive improvements from it.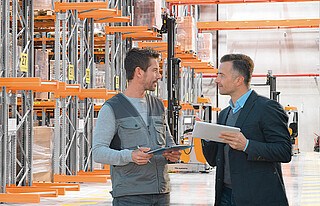 Wildemann and Melzer have both developed a passion for the subject. As consultants, they visit the companies on site to collect data, draw conclusions and suggest improvements. " Customers can concentrate on their core business," says Wildemann. If desired, the consultants can also deploy a fleet manager from their department who reliably takes care of all the client's requirements as previously defined together: for example, the fleet manager extends old vehicles on behalf of the client or organises the transfer to other locations. This service is called "Full Service Fleet Management" - a kind of extended desk for the customer. Those who manage their fleet themselves, but would like to have support in specific areas, choose the "Assisted Service". In this case, the fleet operator collects the data himself, but is supported by an external consulting team in evaluating it or creating concepts.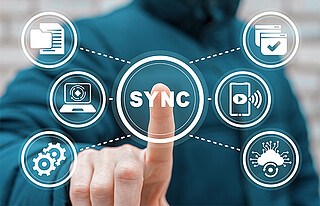 "This means that in-depth analyses can be carried out by having access to a professional team of consultants," explains Wildemann. "For example, on topics such as charging concepts, utilisation analyses or even logistical fleet optimisations." This is particularly interesting for operators who have sufficient staff but would like to buy in additional knowledge and advice.
---
Challenge: Standardised data
A special feature is that Wildemann and his team explicitly offer this service to customers who own mixed fleets - after all, mixed fleets are quite common in today's business. "Companies like to use different manufacturers for their forklift trucks and warehouse equipment in order to be flexible," says Melzer. In addition, there are often historical reasons. An existing company or a new site is acquired - which, however, use completely different fleets than the company headquarters. The challenge with mixed fleets: it is all the more difficult to collect uniform data. This is where even excellent software solutions from specific manufacturers (such as neXXt fleet from STILL) are pushed to their limits because the interfaces of the various OEM software solutions are different. "It can take a lot of time to migrate and interpret the data from the respective systems," explains Wildemann. "Often systems use different bases for their calculations and therefore do not deliver consistent results."
For this reason, his team has had its own brand-neutral software programmed, with which they can collect and evaluate data. "This enables us to perform the calculations of the fleet KPIs uniformly for all industrial trucks," he says. Because in the end, the more data, the better and more precise the optimisation proposals. However, data is not everything - it has to be interpreted correctly. And this is where the consultants' expertise comes into play. "Modern software can do a lot - but what conclusions can be drawn from it in each case?" is how Melzer puts it. "With our background knowledge, we can put that into perspective very well."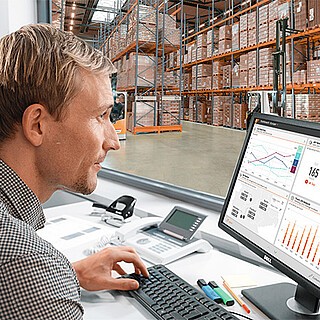 ---
Interplay of software and expertise
The expert team's approach has other advantages as well: Fleet operators are often reluctant to enter data such as cost development or leasing rates into the manufacturer's systems because they are worried about data security. "By having an external partner, the data sovereignty lies completely with the client, and they can decide for themselves what the consultants are allowed to see," says Wildemann. As part of his job as a consultant, he spends a lot of time on site with clients and "is constantly learning," as he says. Due to his experience, he can often already provide useful tips after an initial overview. For the deep and hidden potentials, however, the interaction of software and expertise is needed: "Efficiency can be improved because the analysis shows that forklifts are much less utilised than expected. Wildemann passes on his tips for optimisation in regular meetings. After all, process changes cannot always be implemented quickly - in the long run, however, there is potential for increasing efficiency in many places.
Contact request
Subscribe to the blog !
Be informed as soon as an article is published. You can unsubscribe anytime.
---