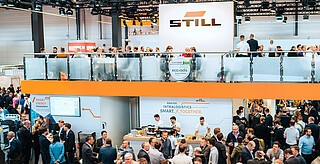 STILL at LogiMAT 2023
Making Intralogistics Smart. Together.
---
That was LogiMAT 2023!
"Making Intralogistics Smart. Together."
It is STILL's aim to make intralogistics 'smart': to develop intelligent solutions that make warehouse operations smoother and more efficient, that better protect the health of the people who work there and at the same time meet the highest sustainability standards. We are not interested in a technological higher - faster - further, but in what benefits the customer.
---
All highlights and impressions at a glance:
We drive automated vehicles
Discover the showcase of the integrated automation solution together with our group sister Dematic (KION Group).
Pallets arrive at the warehouse by truck, an automated EXV iGo systems high lift pallet truck picks up the delivery from the truck unloading station and takes it to the contour control - a control device that is as smart as it is slim, works independently of conveyor technology and can therefore be freely positioned in the warehouse. Based on the customer order the goods are made available at a transfer station. Here, an ACH autonomous mobile robot (AMR) takes over the horizontal transport in the direction of the conveyor system in order to pass on the goods for repalletising and packing according to the customer's order.
Just what you need. – The Classic Line from STILL.
Do you have moderate stacking and transport tasks in your warehouse? Are you looking for a helper who simply does the job? Welcome to the Classic Line from STILL. Here you will find forklift trucks and warehouse technology just the way you want them: robust, reliable and ready for action. Every Classic Line product is 100% STILL: ergonomic in design, simple and safe to handle - but free of extras that you don't need. This way we can offer you a price that is more than attractive - including the STILL quality and service you are used to. And best of all: You don't have to wait long for these models. They are available at short notice and can also be ordered online. Now that's smart!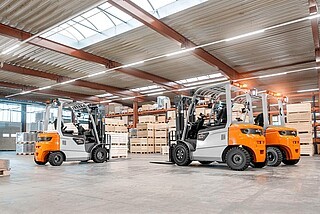 Does its job. Period. – The new RCE 25-35
Forklift is that simple.
Whenever you need to get a job done, the new RCE electric forklift truck is there when you need it. Occasional transport and stacking tasks either indoors or outdoors are just its thing. This forklift truck has everything that makes a solid helper: power, robustness, efficiency.
Intelligent loading management in intralogistics – Smart Energy Unit
Smart fleet management is a basic prerequisite for remaining competitive in the dynamic world of intralogistics. Smart charging is an important part of this, ensuring availability, flexibility, energy efficiency and, not least, transparent cost management. Only if you know when, where and how much energy is needed and consumed can you plan your charging processes and thus the availability of your vehicles and the seamless flow of materials reliably and with foresight.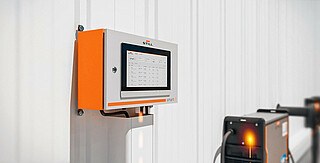 ---
Impressions of LogiMAT 2023