STILL PRIO trucks
Introducing STILL PRIOrity Trucks!
Complete with the most popular equipment options, these trucks are available for immediate delivery.
The performance of your warehouse logistics is our top PRIOrity. We have combined the most requested equipment options in our new PRIO configuration. Our PRIO trucks are ready and waiting - your delivery will take place immediately after we receive your order!
Here are the benefits:
STILL warehouse trucks with the most popular equipment options
Available for immediate delivery


Our STILL PRIO trucks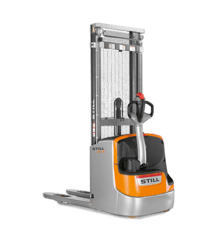 EXV 12
high lift pallet truck
Highest storage density due to high residual carrying capacity.
The STILL 'OPTISPEED' adapts speed to tiller angle for reliability.
Compact dimensions and ease of use boosts truck performance and high pallet turnover.
Includes external charger and battery.
Key data:
Rated capacity/load: 1.200kg
Service weight incl. battery: 935kg
Lift height: 4.386mm
Overall width: 800mm
Tyres: Polyurethan / tandem
Battery: 24V 2 PzS-B 200Ah
Equipment: incl. external battery charger