How have the service requirements changed?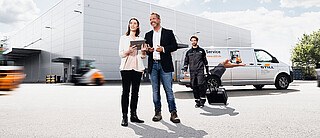 As Senior Director After Sales, Maik Hennies, 41, is responsible for the strategic development of service operations in Germany. He himself was a service manager at a branch for a number of years before going on to become service director for the EENA region and then for Germany. In an interview, he explains the responsibilities of service technicians today – and what really matters to customers.
---
Mr Hennies, service and sales: do you see them as two sides of one coin?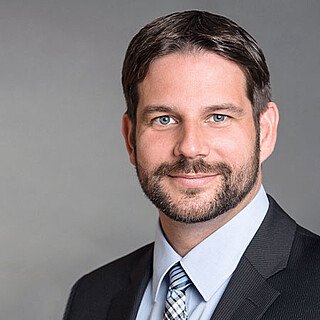 Hennies: No, because if we want to serve our customers in the best-possible way, service and sales must work hand in hand. Many customers are pleased when their sales contact says that they'll take the regional service manager with them to a meeting, as that shows how important good service is to us. It is a partnership: we are all in the same boat. Based purely on the figures, we also have a lot more service contact with our customers than we do sales contact. Service is therefore an extremely important area – from our customers' perspective too.
---
You are currently working on making service even more digital...
Hennies: We have seen a massive development in digital solutions as a result of the pandemic, so there are lots of new and exciting solutions available to us today. For example, we will be able to provide training for technicians and customers as and when the need arises. This gives us a lot of flexibility and offers added value for our customers and employees. There has also been a significant improvement in the delivery of the digital training sessions, from high-quality 3D simulations to virtual reality. We can combine options in order to cater to all types of learners.
---
Would you say the pandemic has forced us all to rethink?
Hennies: Many companies have suddenly realised that there is huge potential in integrating modern media. We also learned that modern power apps, dashboards and the integration of Power BI reports can make our day-to-day working lives much easier. These digital solutions enable us to provide all the necessary documents, reports and certificates to the regional service managers on a daily basis. The essential point here is that a regional service manager has everything they need to perform their job available on the dashboard. This creates transparency internally and enables us to learn from one another. It is generating completely new synergies.
---
Were there any surprising discoveries?
Hennies: Yes, there were some situations where the transparency we had created enabled us to identify other strengths, which we were then able to present to the entire organisation as examples of best practices. Far too often, the focus is on things that need to be improved, but we want to make sure that we aren't weakening our strengths either – we want to identify and build on them. For example, the new reports allowed us to identify at an early stage where there is potential for additional technicians, so that we could then strengthen the team in a targeted manner. Ultimately that benefits the customer as well.
---
So was it not possible to do that previously?
Hennies: You could certainly have exported all the information from the system manually and then had a huge Excel spreadsheet. For data protection reasons alone, that is difficult to do and not really useful in practice. And I'd also like to stress here that although our system is transparent, it does comply with all data protection requirements.
---
You yourself introduced regional service managers as project managers in Germany. How did that come about?
Hennies: That was in 2014. I was the service manager in the Bremen branch and was responsible for some 80 employees without any managers below me. This enormous responsibility meant that it was virtually impossible to develop the service strategically. Other regions like France were already using regional service managers as managers for the relevant service teams in the different areas, so we took a closer look at the arrangement and asked ourselves: how can we make this structure work for us, too? And how can we cater to customer requirements?
---
What exactly are the responsibilities of a regional service manager (RSM)?
Hennies: A regional service manager has full responsibility for their region. They manage the technicians, they decide on the appropriate growth strategies for their region, and they manage and build their customer base. The job involves a lot of personal responsibility. We also had to train our employees so that they were prepared for the new role: how do I manage technicians? How do I handle data and figures? How do I sell? I'm confident that if we had not had the regional service managers, we would not have come through the crisis anywhere near as well as we did.
---
How do customers respond to this set-up?
Hennies: Very positively. We see that very clearly in the higher customer satisfaction levels. Customers have a specific point of contact for service who is responsible for resolving any problems they may have.
---
How have service requirements changed in recent times?
Hennies: The whole world has got more complex. Availability plays a much bigger role. In the past, there would be a truck sat in the corner not currently in use, perhaps even there as a replacement. That is virtually inconceivable today.
---
So service technicians have to be faster?
Hennies: Definitely. The 'first-time fix rate', which measures how often a technician fixes the problem on the first customer visit, is very important. Customers need working systems and trucks, otherwise supply chains are interrupted – with far-reaching consequences. That's why we regularly optimise technicians' customer service vehicles by equipping them with the required spare parts. We also offer spare parts deliveries overnight. The availability of spare parts, especially at the moment, is extremely important.
---
The service technicians also have responsibility then...
Hennies: Yes, that's deliberate, as we want to make sure that customers get the best-possible advice. Service technicians manage themselves. When a customer calls, the technician immediately knows that customer's circumstances. The customer and the technician know each other, and that helps when solving the problem.
---
So are technicians more than just a repair service?
Hennies: Absolutely! And modern technology helps us here, too, with the diagnosis and analysis: a truck is broken, but why? If I find the cause, then I avoid future wear – that's continuous improvement. Or I can ask myself: how can I use assistance systems to potentially avoid future damage?
---
But technicians also need ongoing training to do this.
Hennies: The issues relating to the trucks are becoming ever-more complex and are constantly changing: IT, safety, automation, the list goes on. We rely a lot on training, but most importantly we also ask ourselves how we can actually embed this knowledge.
---
Is that not the same as training?
Hennies: No, not necessarily. If you train a dozen employees on modern technologies or equipment, but then those products aren't even being used in their region, then you lose that knowledge. So it's much more important to train on demand. How can we give technicians the exact training that they need, at the right time, and in a manner that is appropriate for their learning style? Like I said earlier, we want to make sure that we offer modern training. And we want to make use of all the latest technology to do that, whether that's 3D modules, webinars or virtual reality. For example, someone can practise on a digital model and view a truck mast from all sides.
---
Can service technicians help with the development of new products as well?
Hennies: Yes, because they are in contact with the customers. Because they are there on the ground and get to know what annoys customers the most and what customers need. I'm generally a big fan of simply trying new things. Even if we ultimately decide that it's perhaps too soon for the market, we have often nevertheless developed all kinds of new solutions for our customers.
---
What would be your takeaway from all this: What is STILL's biggest strength?
Hennies: Our proximity to the customer. Each region has its own support structure with back-up in the branch. We place the customer at the centre of everything we do. That also helps us to establish lasting customer relationships. The greatest praise for me is actually when a customer says: "That was really good." That is our goal and that's why customers remain loyal to us even in times of crisis – even if the odd spare part might occasionally not reach them as quickly as hoped. I know it's a well-worn phrase, but it remains as true as ever: sales sells the first truck, service sells the rest.
Oops, an error occurred! Code: 20230608145648b5466329
Comments
No comments
Subscribe to the blog !
Be informed as soon as an article is published. You can unsubscribe anytime.
---