Round and round we go! Thinking process chains holistically
For companies in the logistics sector, the cradle-to-cradle principle offers many opportunities to become more sustainable. Exactly how this can be done was the topic of the STILL logistics talk 'Thesen am Tresen' at the Logistic Summit 2022, where three experts spoke about resource-efficient production and refurbishment, among other things.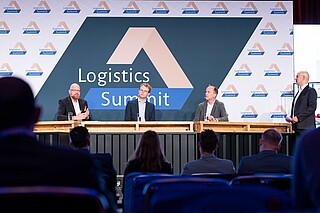 ---
"Actually, we should have started working on protecting the climate yesterday, otherwise we will have a problem," says Christoph Küffner, a staff member at the University of Erlangen-Nuremberg. Because not only emissions and lack of resources are challenges, but also a steadily growing population. "What we save dissipates through the fact that we are becoming more and more people," he explains. However, something has changed: "There is a growing awareness of the importance of sustainability and circularity." And now it is up to the companies to stand ready with appropriate offers.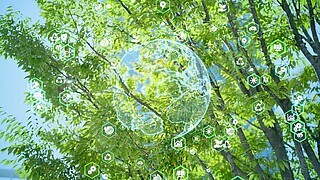 ---
Keeping raw materials in the cycle
In this context, it makes sense to follow the so-called "cradle-to-cradle principle", explains Küffner. In other words, the idea that at the end of its life, a product is broken down into the individual raw materials from which it was made. The raw materials are then returned to their respective cycles. This allows the resources available worldwide to be used as often as possible and enables a resource-saving and sustainable production. Küffner adds: "If I save two grams of plastic per bottle, but produce more and more bottles, it will eventually no longer be sustainable." A better approach is to design a bottle in such a way that it can be broken down into its individual raw materials.
In respect to industrial trucks, this is a big task, says Karl Knipfelberg, Vice President Product Management at KION. "A forklift truck consists of up to 5,000 components," he explains, "and you have to think about all of them." For every single one of these parts, he says, it is important at the development stage to think about how they can best be recycled. "With the concept study for the new RXE, we will be developing a vehicle that is the first to come to market designed for circularity from the outset," says Knipfelberg. Yet STILL does not intend to rest on this initial success: "Our goal is to achieve double-digit savings in emissions."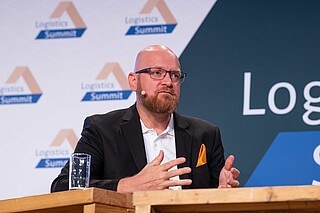 ---
Zero waste and refurbishment
STILL is therefore introducing a product line that is specifically geared towards such standardised entry-level solutions: the 'Classic Line', or 'C-Line' for short. These trucks are focused on the crucial core functions and can therefore be offered at attractive conditions - and they are quickly available because they are configured to suit customer requirements from the outset. Customers can also order and buy online, which takes just a few clicks because of the standardised equipment. And once purchased, the forklift trucks do what they are supposed to do.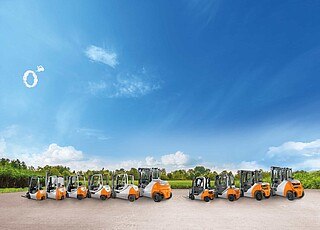 The main focus here is on circularity. "Zero waste is the long-term goal," emphasises Knipfelberg. For example, old lithium-ion batteries: Instead of disposing of them, it is also possible to reprocess them. The number of components needed for an industrial truck is also being examined. In addition, more and more trucks are being leased rather than sold. Once a contract expires, the circular trucks represent assets that can still be used beyond the term of the contract. "The trucks can then either be recycled or refurbished," Knipfelberg explains.

With so-called "refurbishment", i.e. the reconditioning of industrial trucks, old equipment is repaired so that it can be used for longer. To do this, parts from other old trucks are combined with new spare parts. This type of refurbishment is also part of the cradle-to-cradle principle. "Transparency is particularly important to us," emphasises Knipfelberg. It is also about creating awareness among customers that reconditioning is the right and necessary thing to do. If possible, the vehicles must attain the same quality as new ones. " This is where our digital solutions help us," he explains. With the help of analysis tools, it is possible to determine quite precisely which individual parts wear out quickly. This in turn helps to optimise the company's own reconditioning centres.
---
Sustainable transport
The cradle-to-cradle principle can also be applied to the transport route, explains Dr Frank Albers, Managing Director for Sales and Marketing at agricultural machinery manufacturer Bernard Krone. He summarises: "When it comes to sustainability, a holistic approach is important." It is not enough to make packaging and products more sustainable. The vehicle on which the goods are transported across the country must also be designed sustainably, he says. "We also rely heavily on refurbishment," he stresses. This extends the economic life of a trailer by several years: "And when the life cycle does come to an end, we dismantle trailers and boxes and try to recycle as many parts as possible so that they remain in the cycle.
Apart from that, there are many other ways to make the transport route more sustainable. For example, with a digital tool that monitors tyre pressure. "This reduces tyre wear and also the fine dust emitted into the environment," says Albers. Aerodynamic components, such as an electrified axle, are also in high demand. The trailer is lifted by the axle instead of the diesel engine - which saves fuel and emissions.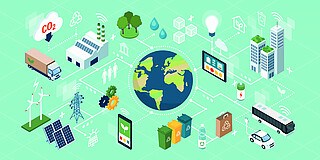 In addition, the weight of the trailers has a great influence on the amount of emissions on the transport route: "A lighter trailer increases the truck's payload and reduces the number of transports," he explains. "And the drivers can simply transport more at once."
---
Circularity must not be expensive
Küffner is also sure that much can be achieved through product design: "We have to ask ourselves how we can make our supply chains even more sustainable." For this, however, the industry needs the support of politics. Knipfelberg also points out that refurbishment requires a lot more effort than producing new products over and over again. For this, he says, a company has to create a separate infrastructure. "But circularity must not be expensive, otherwise it is not competitive," he emphasises. This is where politics is called upon to provide appropriate subsidies. Albers also agrees with both of them: "Sustainable action must be rewarded and not punished by higher prices. It must not cost more, but must be just as expensive."
Contact request
Subscribe to the blog !
Be informed as soon as an article is published. You can unsubscribe anytime.
---