RXE 10-16C: the compact package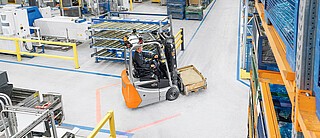 Small three-wheel forklift trucks always excel whenever work is to be carried out in restricted spaces. The RXE 10-16C from STILL combines the best of three worlds with successful concepts taken from a range of other models, including a famous predecessor.
"Everyone should have an RXE," says Dyrk Draenkow, Product Manager for Electric Forklift Trucks and Energy Systems. He says this with a nod and a wink, but there is a kernel of truth in it: the new three-wheel forklift truck from STILL is unbelievably versatile. With its intuitive operating concept, it is ideal for small and medium-sized enterprises, which only require one or a few trucks for their warehouse. That said, it is also a great addition for large fleets.
This is mainly because the concept for the RXE 10-16C's operator's workspace is identical to its larger predecessor, the RX20. With a capacity of up to five tonnes, this means it fits perfectly in the family of forklift trucks: "If I have a fleet consisting of a range of counterbalanced forklift trucks in various tonnage classes, it doesn't take long to adjust when switching between trucks," says Draenkow. This is because the operator doesn't need long to adjust to the controls, which in turn provides a huge boost to safety. All trucks now have identical control functions, control elements and on-board computers across all series. The RXE 10-16C is a new development, but one which combines functions and concepts from its predecessor the RX 50, its big brother the RX20, and the FM-X reach truck.
---
"Great fun to use"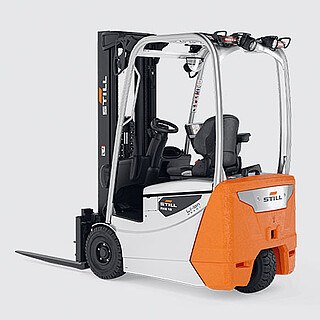 The RXE 10-16C is also available with all of STILL's assistance concepts, making it even more familiar and easy to adapt to. "Thanks to its wide range of operator assistance systems, the RXE is at least as safe as the larger members of the STILL electric forklift family," says Draenkow. However, STILL has deliberately avoided integrating all features as standard to begin with: "We wanted a 24-volt forklift truck which offers full ease of operation but at an entry-level price," emphasises Draenkow. This also contributes to the all-round appeal of the RXE: it can be freely configured and therefore has a wide range of possible applications. It follows the STILL tradition of putting ergonomic design at the forefront and even has a surprisingly spacious footwell considering its compact size.
The diminutive size also has particular benefits when it comes to manoeuvring in tight spaces, but also in terms of the operating experience. This was also a distinctive feature of the predecessor model, the RX50: "Short, manoeuvrable, nippy and versatile" was the verdict from a test report in the trade magazine 'Verkehrsrundschau' ten years ago, which also described it as "great fun to use". STILL's engineers attached a great deal of importance to continuing this with the new truck. Draenkow calls it "the best of three worlds", stating that they took into account the various factors that made the other models successful.
---
Low-maintenance and spacious
The operating concept, the fully revised electrical system, the visually optimised mast and the steering wheel were taken from the RX 20. The compact dimensions, the overhead guard concept with thin bars to ensure optimal visibility, and the three-wheel concept were taken from the RX 50. And the RXE had the FM-X reach truck to thanks for its low-maintenance bevel gear drive: this is a rear-wheel drive which is now based on a gear rim rather than a chain, as was the case previously. "The entire rear end of the truck was also fully revised," says Draenkow. The PDFU (Power Distribution and Fuse Unit), which was optimised specifically for the RXE, sits next to the space-saving bevel gear drive: "This means the entire battery compartment is extremely spacious, neat and easy to maintain, so the important areas can be quickly accessed for maintenance."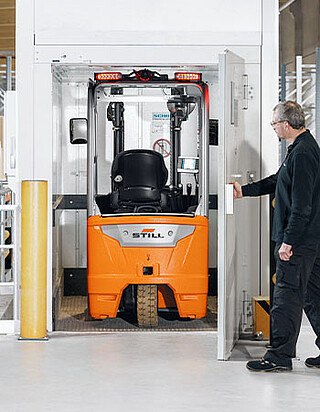 Draenkow also describes the access to the battery charger plug as an "absolute highlight". "There is one handle for opening the battery cover and another for accessing the charger. This means the lead-acid charger can be connected in under 20 seconds." Quick access for charging the STILL li-ion battery is even faster: "Since the charger can be accessed from the side, the MRC160 plug can be directly connected to the li-ion battery." The li-ion battery will be available for the RXE 10-16C from spring 2023 in 9 and 12-kWh versions.
---
Digital, safe and fit for the future
All functions aid with ease of use, safety and agility. "The RXE just feels well-rounded and coherent," says Jürgen Wrusch, Product Expert for Electric Forklift Trucks at STILL: "It is clear to see from operating the truck that people have put a lot of thought into making it a comfortable experience." This ranges from data processing to the display, so that operators are informed about the load, the lifting height and the relevant effects at all times. This also includes the fact that the RXE accelerates smoothly, quickly picks up speed and reacts precisely at all times. In a nutshell, the RXE builds on the strengths of its three-wheel predecessor, and is also future-proof in terms of digital comfort and safety.
The RXE 10-16C is a real all-rounder: it is a viable option for entry-level customers, and can help make the transition from hand-operated warehouse trucks to forklift trucks smooth when the turnover in their warehouse has grown. "For many this is literally the next step in the evolution," says Draenkow. At the same time, however, the RXE also demonstrates its strengths when it comes to being efficient in tight spaces or particularly narrow aisles. Its compact dimensions enable it to pass through doors or manoeuvre into lorries without any problem. It can also lift loads up to heights of almost seven meters: "This is a very impressive achievement for a small forklift truck," says Draenkow, "it's all possible thanks to the truck's very low centre of gravity and the extra-rigid construction of the mast."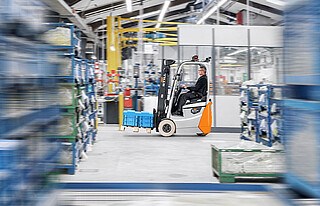 ---
Hugely versatile
All this makes the RXE a reliable yet enjoyable piece of equipment to operate, both for small and medium-sized enterprises, such as vegetable wholesalers or drinks retailers. It can also be equally as helpful for container loading or as part of large fleets in production and supply logistics. The predecessor model, the RX50, has already demonstrated just how versatile small three-wheel forklifts can be, having been used to move pews, confessionals and works of art in St. Peter's Basilica in the Vatican. When viewed from this perspective, perhaps Draenkow is not exaggerating when he says that "everyone should have an RXE."
---
Technical data, RXE 10-16C
Three-wheel counterbalance truck


| | |
| --- | --- |
| Battery voltage | 24 V |
| Load-bearing capacity | up to 1600 kg |
| Lifting height | up to 6810 mm |
| Speed | 12 km/h |
| Overall height | from 1980 mm |
| Total width | 990 mm |
| Equipment | STILL Easy Control on-board computer with colour display, numerous assistance functions such as lift height display or overload detection. Optional lithium-ion batteries with quick-charge access. |
---
Contact request
Subscribe to the blog !
Be informed as soon as an article is published. You can unsubscribe anytime.
---