Building a more digital future together
Artificial intelligence in the warehouse is on the way – and soon. This was the opinion shared by the experts at the STILL Logistics Talk 2021. They also agreed, however, that collaboration and the will to invest are needed in order to drive development.
An entire fleet of autonomous industrial trucks, all networked with each other, and assisted by artificial intelligence, which monitors the goods: while this might sound like something out of a science fiction novel, it could become the norm in the very near future. "All the individual components are already here. And there is also awareness in the industry that a change will take place," says Professor Michael ten Hompel, Executive Director Fraunhofer Institute for Material Flow and Logistics IML. He is also convinced that neural swarm technology will play a key role here. This could be used, for example, to train artificial intelligence (AI) in a simulation to network all autonomous components in a warehouse with each other.
---
Shared basic technology
Innovations like this are always useful, and even a necessity. After all, customer requirements in terms of logistics have greatly increased in recent years: "Everyone knows that AI brings genuine advantages and, in some areas, is also the only way to meet future challenges," says ten Hompel. He adds, however, that transformation requires underlying technology on which to build individual solutions for different applications. He sees this as a considerable but vital task: "To achieve this, we urgently need more interdisciplinary collaboration between research, development and industry."
Jakub Piotrowski, Chief Information Officer and Chief Digital Officer of BLG Logistics Group agrees with this point of view. He is thinking about this from a financial perspective, among others: "Digitalisation is expensive, particularly when you do it alone," he says, adding that the more partners are involved, the faster relevant issues emerged. He also states that the same algorithm could often even be used for multiple applications. "An AI that processes invoices using image recognition technology can also be used for delivery notes, for example," explains Piotrowski. In cases like this, he says that it would make sense for multiple companies to work on the same algorithm, instead of each developing their own programme.
---
Overview
There are some things to bear in mind when developing new digital products: "During digitalisation, it is very easy to view processes in isolation," says Piotrowski. For example, there is the discussion about standardised packages, which would undoubtedly have the potential to greatly enhance automation processes within logistics. However, if these new package sizes alter the quantities required for production or lead to other process changes, and thus cause production to slow down, this would not be of any benefit, says Piotrowski.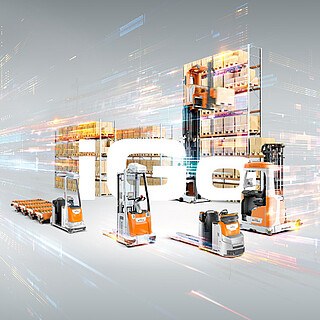 Therefore, it is important to maintain an overview when it comes to standardisation rather than just selectively looking at individual production segments, explains Tobias Zierhut, Senior Vice President, Mobile Automation at KION Group: "You have to include the upstream and downstream processes, which then involves a lot of work and expense," he says. In light of this, it makes all the more sense to test digital standardisations on a small scale to begin with, in order to identify where added value can be achieved.
---
Refining standards
However, standards are never static – they have to evolve. "New products have to be allowed to breathe and develop," says ten Hompel. This is also why he is calling for an open-source concept for new products, i.e. making software's source code freely accessible: "This makes it possible to think beyond the standard." The challenge here is that many companies hesitate when it comes to making valuable data and algorithms public: "Particularly in the USA, these immaterial assets can account for up to 90 percent of the company's value," says ten Hompel. This figure tends to be much lower in Europe, but companies here have also realised that data is an important asset, and one which they are reluctant to share.
Zierhut also sees a further cost trap in focussing on data: "Many companies collect data first and only then think about what to do with it," he says: "But this is not financially viable." Ultimately, collecting data also generates costs. The question of which data is even needed in the first place is therefore crucial, as is what benefit is offered by the information collected. The quality of the data is another important aspect, explains Piotrowski. He proposes a rethink here: companies should first of all ask themselves what exactly they want the data to show and only then should they begin collecting the relevant data. "Simply collecting the data costs a lot of money, but doesn't bring any benefit," summarizes Piotrowski.
---
Using data correctly
Data is only valuable if a company can gain new knowledge from it. It's not the data sets themselves that are decisive but rather the conclusions that are drawn from this knowledge, says Piotrowski: "When I tell the customer that we can generate precise forecasts based on the data we have collected, this makes more business predictable and makes the monetary aspect something tangible."
This applies for a great many digital innovations. According to Piotrowski, the key question to ask first is whether they are of practical use: "For any new issues that arise, as an entrepreneur I always have to think about what my use case is and how high my budget is," he says: "And then I have to set myself strict criteria for aborting the project so that I don't invest too much in something, which ultimately comes to nothing." Developing and testing a digital solution is expensive to begin with, he adds. However, these digital solutions are often easy to scale after that.
Swarm technology is a prime example of this: It requires a certain level of financial investment and can therefore discourage companies to begin with. "But once this step has been completed, you can simply continue to build on them in the warehouse," says Piotrowski: "Then I simply apply the knowledge gained to the new device." The scalability is what makes the technology attractive as an investment.
---
Change in culture
In order to actually establish the swarm technology and other digital solutions in the warehouse, companies are still unwilling to invest in some areas, says ten Hompel:
"They quickly dismiss the benefits, instead of keeping an open mind and asking 'How can I make this happen?'" From his perspective, however, this technology is unstoppable, as it offers too many benefits in the long term. The participants in this discussion all agree: the industry is undergoing a change in culture. Anyone resisting this change will be left behind in the long term. They even believe that it will no longer be possible to deal with the peaks created in logistics by the increase in online trade without using autonomous logistics technology. For ten Hompel, one thing is certain: "The first swarm warehouse is not far away."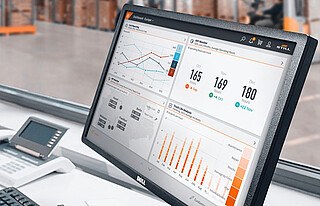 ---
Contact request
Subscribe to the blog !
Be informed as soon as an article is published. You can unsubscribe anytime.
---