Do you know what a STILL lithium-ion forklift truck can do for you?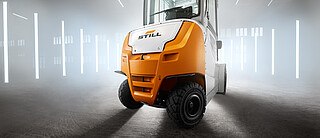 STILL's lithium-ion forklift trucks are a perfect example of technological optimisation from the leader in intralogistics. When we talk about technological optimisation, we're not only referring to the technical improvements but also the safety features and improvements accompanied by STILL Li-Ion technology.
Discover in this blog post, how fitting certain components in the STILL lithium-ion forklift trucks enable both the workers operating them and the goods being loaded safe at all times.
STILL lithium-ion forklift trucks offer holistic safety
To start with, the lithium-ion batteries do not require backup batteries, any additional servicing, or infrastructure needed for traditional batteries. With no need for servicing, lithium-ion forklift trucks remove any risks related to water ingress or changing lead-acid batteries.
The safety of STILL lithium-ion forklift trucks is guaranteed by tests conducted on the Li-Ion batteries including drop and impact tests as well as the STILL Battery Management System (BMS), which monitors, controls, and corrects possible malfunctions. For example, if the BMS detects very high temperatures in one cell, it briefly disconnects the cell to prevent any damage. Alternatively, if the battery was hit the system will constantly monitor it to ensure error-free functionality. The BMS for the lithium-ion forklift trucks also includes safety features such as pressure discharge valves, monitoring of cell voltage, a current switch in each module, and a patented regenerative braking system.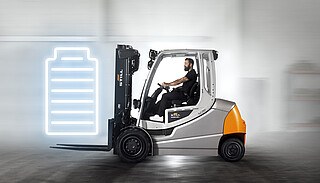 You can't talk about the safety of lithium-ion forklift trucks without mentioning their environmental benefits. Energy efficiency and energy savings achieved through Li-Ion technology have a positive effect on the environment by reducing CO2 emissions.
In summary, lithium-ion forklift trucks provide an intralogistics solution that offers safety benefits both inside and outside the facilities.
More widely available and more cost-effective technology
At STILL we not only talk about our achievements, but we always look for things to improve. In fact, the need for improvements is what drives us to keep making things better every day. We understand that Li-Ion forklift trucks require significant up-front costs. Nonetheless, we think it's important to take a number of other aspects affecting the return on investment into consideration.
While the price per forklift truck is naturally a key factor when making a purchasing decision, it is important to highlight that there are other significant factors too, such as the reduction in operating costs through higher energy efficiency and the ease of use and servicing provided by lithium-ion forklift trucks. On the one hand, the energy efficiency offered by STILL's Li-Ion technology means that electricity consumption can be optimised, resulting in both energy and financial savings, with 30% lower costs compared to the use of other technologies, such as lead-acid batteries. On the other hand, it also represents a significant saving in servicing and repair costs. Because of this increased safety, the human and material costs of unexpected accidents when changing the battery between shifts disappear from your books, along with the additional investment in servicing costs. Better still, the space set aside previously for the lead-acid battery recharging room can be reused, representing another saving.
Because we can see so many benefits from lithium-ion forklifts, at STILL we're working hard to integrate them into the intralogistics market and make them more widely available and more cost-effective.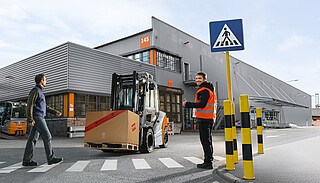 At STILL we believe that the future is something we build from the present. That's why our efforts are focused on creating useful and responsible solutions, helping our customers integrate them into their companies. If you would like to know more about the advantages of STILL lithium-ion forklift trucks, please get in touch with us. Our expert team would be delighted to turn your intralogistics project into a reality.
Contact request
Subscribe to the blog !
Be informed as soon as an article is published. You can unsubscribe anytime.
---