Warehouse racking – How do you organise a warehouse efficiently?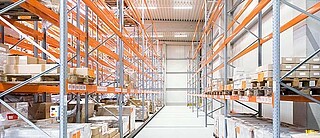 Getting your warehouse racking right and working around your operational needs can bring huge time and cost saving benefits. But how do you organise a warehouse efficiently?
---
What is a warehouse racking system and why is it so integral?
In the simplest terms, a racking system lifts materials and goods off the warehouse floor and utilises the vertical space available in the building. The most efficient solution for any warehouse is for there to be no storage at all. Goods come in, are processed and are then forwarded on to the end user. However, warehousing is a necessary requirement and one that STILL makes every effort to make a cost-effective, streamlined, process-driven environment. One where goods and materials flow through, with as few handling opportunities as possible. The racking system is intended to try and manage the flow through, taking into consideration seasonality, bulk storage requirements and supply and demand.
Without an effective racking system you will eventually discover lack of control over the material that comes in and where it is stored. With a well-designed concept and with optimised racking systems for the goods that your warehouse handles, the space available and the material handling equipment present, you have a real opportunity to drive up efficiencies in your warehouse. At the end of the day, warehouse managers want to save handling time, improve safety and reduce product losses, and that's exactly what a well-designed warehouse racking solution can achieve.
---
How can racking improve warehouse efficiency?
Primarily a well-designed racking system will cut down on handling time in your warehouse and decrease the need for multiple handling of the same pallet. The second phase is to make use of different racking systems (e.g. adjustable pallet racking, live racking, push-back or drive-in) and this is tailored not only to the material you are handling, but also the material handling equipment being used.
With warehouse racking systems, we always say: 'one size does not fit all'; for starters, there are so many different variables to consider such as warehouse space, supply chain, available material handling equipment and the goods themselves. Our role is to create a system designed to move material and goods through a warehouse as efficiently as possible. In some scenarios we may have two very similar companies handling very similar goods, however due to any one variable, the ideal racking solution will be entirely different.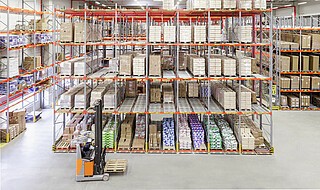 ---
What are the different types of racking systems available from STILL and how do they fit into STILL's overall service offering?
At STILL, we offer every kind of racking system from a light picking solution to a very narrow aisle high bay racking system and every type in between. We offer pallet racking, drive-in and drive-through racking, mobile pallet racking, push-back and flow racking, shuttle systems, cantilever systems, shelving and platform systems, all designed specifically around the customers' available space and warehousing needs. The STILL racking experts and system consultants are happy to help work out the right racking type for the respective requirements.
They create optimised solutions for customers. Where a dedicated racking-only supplier might design a system that maximises warehouse space, we consider the flow of goods through that space, and how the trucks and pickers are able to handle the goods. This approach ensures that the warehouse environment actually works for the customer.
---
Would every business benefit from a custom racking solution?
Almost certainly, every business would benefit, as their needs differ so much. The STILL consultation process starts with understanding what the client is looking to achieve for their warehouse. We ask questions to understand what types of goods are to be moved and stored, what product lines they handle and the equipment they use to handle them.
From this, we could recommend a racking solution that fits. Maybe it's a wide aisle application as the customer will be using the counterbalance for indoor and outdoor processes with restricted roof heights, maybe they are using a reach truck which allows us to narrow down the aisle somewhat and achieve a higher top beam. The options are endless and we take pride in being able to offer both advice and solutions (handling equipment included) that meet the needs of every individual customer.
Even small differences in stock movement or employee shift patterns can influence the design of our solution. For example, the racking system used on the same product handled in two similar warehouses could end up being a drive-in racking FIFO / LIFO system in one and a shuttle system in another.
This complete solution approach is where we really add value for the customer. We can utilise the whole STILL product portfolio of racking systems, material handling equipment and management software to create the ideal intralogistics concept. This results in a harmonious warehouse solution and a 'one-stop shop solution' for the customer.
---
How do push-back and shuttle racking systems work?
Push-back racking and shuttle racking systems work on the principle of trying to achieve product storage density, so being able to store pallets as close together as possible. By reducing work processes to one (LIFO) or max. 2 processes (FIFO) compared to classic pallet racking, you can increase the density of your stored goods. A push-back racking system relies on a forklift or reach truck to push the goods into position to create the storage density required, making use of either channels or rollers to aid the movement of the load.
Shuttle racking systems take that principle a step further by adding in automation. Here, instead of using a truck, the shuttle handles pallet movement within the racking system and places the goods.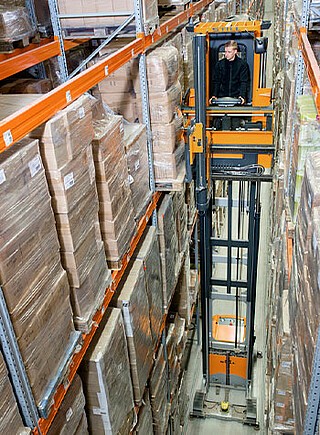 ---
What trends in warehouse racking are you seeing?
Absolutely. With a shuttle racking system, there's less movement in the aisles from your material handling equipment and, as a result, less risk of accidents and damages. It's not just more safety you are benefiting from either, there are cost benefits too. With a shuttle racking system there is less wear and tear on the racking frames (less damage) and less usage on your trucks. A shuttle system handles your goods in a controlled automated environment, so pallets and goods aren't pushing against one another.
---
What trends in warehouse racking are you seeing?
Over the past year we have really found customers asking for automated processes in their warehouses. A shuttle racking system is a good entry route into automation, as it is only a half-automated system and still needs manually operated forklift trucks in its simplest extension level.
Another big trend we're finding with clients is efficient space utilisation and bulk storage. Since coronavirus, there's been a tremendous upturn in online shopping. To supply this demand, customers are looking to utilise every square metre of warehouse space with high-bay racking systems, enabling them to pick and store goods at higher levels.
Platform and multi-level systems have also grown in popularity too, creating more floor space in the same footprint. A lot of warehouses have seen an uplift in small order picking as they adapt to online shopping habits and fast delivery demands. By combining racking, low-level order pickers and narrow aisle trucks such as the EK-X or MX-X trucks to pick from height, we have been able to meet the demands of this fast moving industry.
---
Is it time for an intralogistics consultation?
At STILL, we act as a partner to develop a 'one-stop shop' solution for your warehouse that can bring both efficiency and cost savings. Whether it's an automated space-saving shuttle racking system or adapting an existing warehouse to manage increased demand, our experts in Advanced Applications are on hand to offer their support. Contact us to find out more.
Contact request
Subscribe to the blog !
Be informed as soon as an article is published. You can unsubscribe anytime.
---