Machines as co-workers
Why will warehouse automation in the logistics industry be indispensable in the future? How can existing warehouses be automated? And how do people fit into this development? All this was discussed by three experts at the STILL Logistics Talk 'Thesen am Tresen' at the Logistics Summit 2022.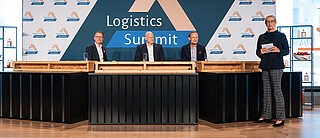 ---
"There is no alternative to automation in logistics because people are a valuable but scarce resource," states Frank Müller, Senior Vice President Brand Management STILL EMEA. In his opinion, the increasing demands on the logistics industry due to a steadily growing global market make it essential to use automated applications. The good news, however, is that the technology required for this is also advancing. "There are now many more options and solutions than there were five years ago," says Müller. It is now possible to automate even smaller applications and process steps in the warehouse. This makes automation easier and more economical.
---
The advantages of automation can now also be used for brownfield warehouses, i.e. existing warehouses. When it comes to conversion, the STILL experts first look at individual processes: "To see what the customer's requirements are and what solutions are already in place," explains Müller. After this analysis, the next step is to automate individual processes: "In some cases, this can happen very quickly." It takes much longer to integrate individual processes that have already been automated so that they function together.
Merging the processes, however, is quite a complex task, as Florian Menold, Managing Director France at pfenning logistics group, points out: "You always have to think in terms of the process chain, keep an eye on the adjacent steps and, beyond that, also on the people". Because they have to accept the new technology and want to work with it. "The employees must be open to change and also analyse their own mistakes. That requires a certain type of person."
This is true for many automation projects, he says, including greenfield warehouses, i.e. those that are new and for which work processes are being planned. "In every project, it is important to think outside the box," says Menold. One must also consider the potential for further development in the next one to two years, he adds. "For large-scale automation to pay off, a logistics contract has to run for at least five years," the managing director emphasises. "A lot can change in that time." So you have to ask yourself: where does it make sense to automate?
---
Parcel shipping industry as pioneer
One industry in which automated processes are already standard is the parcel delivery sector. "In Germany, up to 15 million parcels are shipped every day, which is only possible with automation," emphasises Marten Bosselmann, chairman of the German Parcel and Express Logistics Association. "In a way we are the avant-garde of logistics, with this transport volume we have no other choice." Already today, there is a lack of staff everywhere in the industry. That is why it is particularly important to make jobs as attractive as possible. "This is only possible with a symbiosis of man and machine," he says. One example of this, he says, are exoskeletons, wearable robotic support suits that are used to assist with physically heavy work. "We want our employees to be fit until retirement age," Bosselmann emphasises.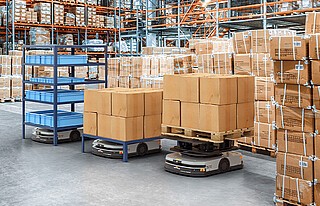 In addition, in the future, the employee must primarily be a delivery agent and not a parcel truck driver: the vehicle will move autonomously in the future, and only the route from the vehicle to the end customer will have to be covered by the delivery agent. "This will reduce the mental and physical strain on the delivery staff," says Bosselmann. However, there are already process steps where the machine no longer needs humans: a machine sorts parcels very precisely, every second.
" Humans can't do that," the expert explains. But even such a machine needs people to monitor it: "Without human intelligence, automation is not possible."
---
Frank Müller is also certain that there will continue to be processes that cannot be fully automated. Especially in warehouses with very heterogeneous articles, i.e. of different sizes and shapes. "You need the human hand for order picking, a robot cannot do that yet," says Müller. Automation in logistics is also rarely about employing either the machine or the human, but rather about working together: "For our economy and to secure the future of our prosperity, there is no other way." Cost is also a factor, he says. "Automation is expensive, but so is staff. You have to find the right balance," Müller clarifies.
For Menold, pfenning's managing director, the return on investment (ROI) is a key factor in every automation project. The challenge here is that in the logistics industry, the contract periods and thus the time span in which an investment must pay off are becoming increasingly shorter: "Often our contracts only run for twelve months. I don't get any automation refinanced within that time." Often the requirements change with a new contract or a new customer.
"That's why flexibility is very important: we have to be able to use the automation solutions not only for one customer, but for different activities in our warehouse," Menold emphasises. Frank Müller agrees: "Before you automate a process, you have to calculate where an investment makes sense and where it does not.
---
Evolution moves forward
Yet even the new technological solutions will not completely turn the logistics industry upside down, or so the experts at the Logistics Summit agreed. "One thing is certain: nothing will change in the basic logistics process. The goods still have to reach the customer," Müller clarifies. Within the logistics chain, however, individual process steps will change and develop further. "This is already happening, it is an evolutionary change," says Müller, "only the speed will continue to increase."
Contact request
Subscribe to the blog !
Be informed as soon as an article is published. You can unsubscribe anytime.
---